TeamSnap Live! Instant Messaging For Sports Teams
The Easiest Way to Communicate on the Go and Never Miss a Thing
TeamSnap Live! sports team instant messaging and chat app allows parents and fans to share in the live game experience no matter where they are and provides an instant communication tool for coaches and managers to reach their teams with on-the-fly updates.
For Coaches and Team Managers
Keep Parents Happy!
TeamSnap Live! is perfect for travel teams and away tournaments. Parents can't make it? No problem, just keep TeamSnap Live! updated and it'll be like they're right on the sidelines. They can stay updated about the games and about anything else going on (like those after-hours ice cream fests) through chat.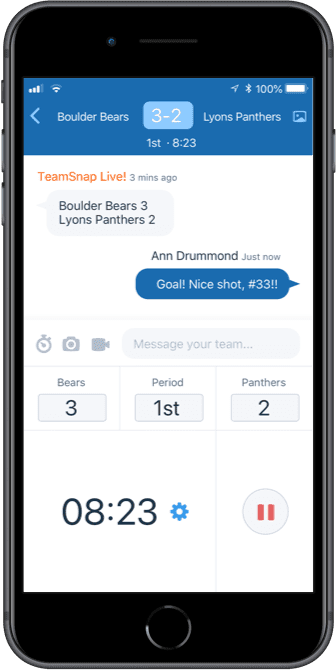 Be Heard Instantly!
With TeamSnap Live!'s Team Chat feature, the real-time updates don't need to stop with the games. Send instant communication via push notification to let players and parents know of a sudden field change, a rainout, a last-minute need or anything at all.
Put Scoreboarding into the Crowd's Hands!
With team crowdsourced real-time updates, TeamSnap Live! eliminates the need for one person to take on the task of scoreboarding, while also expanding the information flow among team fans. Keep everyone in the know! 
For Parents and Fans
Be There, Even When You Can't!
TeamSnap Live! brings score updates, sideline banter, play-by-plays and more to the mobile device. It lets you experience the real-time action of the game no matter where you are:
Missing the travel soccer tournament because someone had to stay home.
In a meeting but wishing you were at your daughter's hockey game.
Out of town but want to know how your grandson is doing in his basketball game.
Want an end-of-game recap of all the action, if you were there or not.
Awaiting trial at sea in the ship's brig but wondering how the baseball game went.
Coordinate Last-Minute Needs!
A ride falls through and you need to find a way to get Sally to the game? Jimmy forgot his glove and you don't have time to run home? No problem. With TeamSnap Live!'s Team Chat, send instant communication via push notification for last-minute needs or updates.