The 2023 FIFA Women's World Cup is in full swing; and the world is watching. In fact, FIFA announced that it has sold more than 1.5 million tickets to this year's event, which has already surpassed the 2019 FIFA Women's World Cup ticket sales. And for those who couldn't physically make it to New Zealand or Australia, Wednesday night's 1-1 draw between the USWNT and Netherlands led to a record number of viewers —  6,429,000 million; making it the most-watched women's Group Stage match ever on U.S. English-language television, according to Fox Sports.
National brands are increasingly recognizing the untapped potential in women and girls as a compelling and influential target audience. In this article we'll dive into five national brands that are supporting women and girls in sports. 
Adidas' 'Impossible is Nothing' campaign unites their community
Adidas has a history of supporting women in sports through their campaigns, showcasing female athletes and inspiring the next generation of athletes. 
In the spring of 2022, Adidas launched new women-focused innovations as well as more support and opportunities for current and emerging athletes. In their latest chapter of  'Impossible Is Nothing' campaign, Adidas spotlights a global group of inspiring women who are breaking down barriers in sport and more. 
"This spring, we continue to use our brand attitude — Impossible is Nothing — to unite a strong, diverse and powerful community of women athletes who are changing the game. We see their power, we celebrate the possibilities they see, we share the optimism with which they seize opportunities, said Vicky Free, Head of Global Marketing at adidas. 
Barbie champions female athletes 
Coincidence or planned that the FIFA Women's World Cup and Barbie movie all came out the same week?! Whatever it was, Barbie has consistently shown its support of women and girls, and even specifically in sports. 
In 2020, a new line of Barbie sports apparel launched in celebration of a number of European women athletes. They were celebrated as role models to honor International Women's Day. 
"Growing up, sports women were less visible in the media, and there is still a gap when it comes to women's sports, which is why representation is so important, " said Dina Asher-Smith, World Champion and the fastest British woman in History. "For Barbie to champion female athletes and different sports shows future generations that anything is possible. I hope little girls will see my doll and be inspired to take up and continue to enjoy sports!"
Athleta partners with 11 elite female athletes to support its ongoing mission of empowering women and girls
Athleta has been a strong advocate for women in sports since its early days. 
"Athleta has supported me holistically as not just an athlete, but a mother and activist since day one," said Alyson Felix, legacy Athleta partner. "I'm excited for the opportunity to come together with other women and use our collective experiences as athletes, as moms, entrepreneurs and all that we are, to not only support each other, but make the world a better place for women and girls. Athleta is giving us the space and support to do that."
One of Athleta's biggest campaigns in support of women and girls in sports was when they partnered with 11 elite athletes to continue its mission of empowering women and girls for the 'Power of She Collective. 'These women joined forces with Athleta to champion "wellbeing, create meaningful impact, inspire product innovation, and support women moving women forward."
Check out their star-power partner list!
Albane Valenzuela (Golf)

Brenna Huckaby (Paralympic Snowboarding)

Heather O'Reilly (Soccer)

Jesse "Flex" Labreck (American Ninja Warrior)

Jessica Mendoza (Softball)

Katie Zaferes (Triathlon)

Mariah Bell (Figure Skating)

Monica Puig (Tennis)

Monique Billings (Basketball)

Natalie Coughlin (Swimming)

Winter Vinecki (Freestyle Aerial Skiing)
Nike launches a goal to train 20,000 female coaches
Nike's goal is to achieve 50% girl participation in the sport-based community programs it supports by 2025.
"We're trying to train 20,000 female coaches, moms and other former athletes to be coaches to promote youth," CEO John Donahoe said. 
Talk about an investment in solving one of the biggest barriers and scarcities in sports: female coaches. According to the Aspen Institute's Project Play, nearly 75% of youth head coaches are men.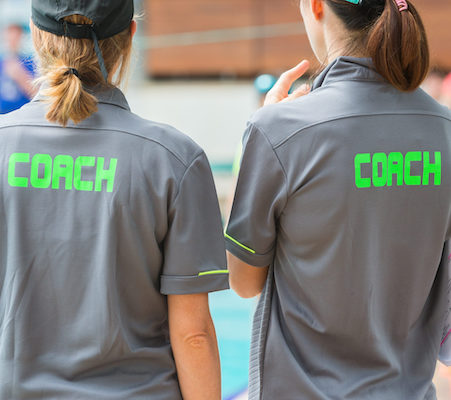 DIRECTV inspires girls in sport with Olympic player Sydney Leroux as an undercover coach
DIRECTV teamed up with TeamSnap for Brands to surprise one of DIRECTV's sponsored girls youth sports teams with Olympic professional soccer player Sydney Leroux. By going undercover as a misogynistic male coach, she inspires the girls to overcome adversity. In 2022 DIRECTV sponsored over 550 youth sports organizations across the country. 
"Sports is at the heart of DIRECTV's legacy connecting fans to their favorite teams and leagues, and TeamSnap gave us an opportunity to reach new audiences and household decision-makers nationwide through hyperlocal engagement with youth sports organizations," said Vince Torres, Chief Marketing Officer. "The platform also gave us the opportunity to demonstrate our commitment to and our love for sports, celebrating athletes of all ages alongside family and friends in the moments that matter."
Brands aren't just getting in the game individually. In March, 2023 Ruggiero's Sports Innovation Lab announced a partnership with banking giant Ally to create the Women's Sports Club.
The Women's Sports Club is a coalition of major brands and media that works to tackle some of the challenges in buying women's sports inventory and to elevating investment in women's sports.
Participating brands such as Nike, Coca-Cola and Delta are coming together to elevate investment in women's sports. Ally is looking to spend equal ad dollars on men's and women's sports over the next five years.
″[Fans of women's sports] watch longer; they're more brand loyal. They're a deeper consumer than the sort of casual men's fan," said  four-time Olympian and gold medal-winning ice hockey star Angela Ruggiero. 
While there are many more national brands that have shown their support for women and girls, these are five that are not only relevant, but consistently investing in changing the game. National brands must embrace this rising force, not only as an astute business opportunity but also as a profound commitment to shaping a more inclusive and equitable society.