In an increasingly competitive business landscape, national brands are recognizing the importance of implementing local marketing strategies to connect with customers on a more personal level. By tailoring their marketing efforts to specific regions, national brands can tap into local preferences and community dynamics. In this article, we will explore 7 nationals brands that have employed successful local marketing strategies.
Starbucks
Starbucks consistently uses user-generated-content (UGC) to engage with locals.  They encourage customers to share their Starbucks experiences through location-specific hashtags and campaigns. Starbucks also features customer photos on their official social media accounts, showcasing the local community and highlighting the unique aspects of each location. This approach creates a sense of pride and belonging among local customers and encourages them to further engage with the brand.
#EspressoYourself 
#GimmeCoffee
#StarbucksLover 
#OffTheSecretMenu
#SummerDrinks
View this post on Instagram
McDonalds
McDonalds uses geo-targeted advertising campaigns to reach and engage with customers on a local and strategic level. By leveraging technology and data-driven insights, McDonald's tailors its advertising messages to specific geographic regions, enhancing the effectiveness of their marketing efforts. 
"We're creating an even more personalized and convenient experience when our customers order digitally, enabling us to serve up relevant offers, make them feel more connected to McDonald's and increase visits and engagement. That includes our loyalty program, which we've expanded to over 50 markets. In the U.S., for example, our digital business is powered by more than 25 million active customers, driven through MyMcDonald's Rewards."
View this post on Instagram
Nike
Nike has successfully partnered with local influencers to enhance their local marketing efforts. By collaborating with influential individuals who have a strong presence in specific regions, Nike effectively taps into local communities and connects with their target audience on a more personal level. Here's an example of how Nike utilized local influencers:
Exclusive Training Sessions and Events: Nike organized exclusive training sessions and events in collaboration with the local influencers. These sessions provided participants with an opportunity to engage in unique workout experiences led by the influencers themselves, often in iconic locations or specialized fitness studios. Nike branded the events with their logo, ensuring a cohesive brand presence.
View this post on Instagram
Partnering with local influencers who have a substantial following within a specific region can be a powerful local marketing strategy. These partnerships create a sense of authenticity, as consumers can relate to the local influencers they admire.
Whole Foods
Whole Foods has established relationships with local suppliers to engage and market to the community. "The Local Forager" program assigns dedicated team members, also known as local foragers, to each region where Whole Foods Market operates. These foragers actively seek out local suppliers, farmers, artisans, and producers who align with Whole Foods Market's quality and sourcing standards. By establishing direct relationships with local suppliers, Whole Foods Market supports local businesses and provides customers with access to fresh, locally sourced products. Additionally, Whole Foods' use of in-store signage, social media, and their website to highlight local stories and these local foragers, fosters a sense of community connection.
Coca-Cola
Coca-Cola has been associated with the Olympic Games since 1928. This partnership enables Coca-Cola to actively engage with local Olympic fans, athletes, and families. 
In 2019, Coca-Cola activated the Special Olympics World Games in Abu Dhabi. Both global and local teams helped build awareness through marketing. By partnering with the Special Olympics at a local level, Coca-Cola demonstrates its commitment to the communities it serves. 
Walmart
Walmart has successfully implemented a local marketing strategy to connect with communities and drive foot traffic to their individual store locations. Through their "Local Store Marketing" program, Walmart focuses on tailoring their marketing efforts to specific regions, considering the unique needs and preferences of local customers.
Walmart actively engages with the local community by participating in local events, sponsorships, and partnerships. For instance, during back-to-school season, Walmart collaborates with local schools and educational organizations to provide school supplies, sponsor events, or even host fundraising campaigns. By actively involving themselves in community initiatives, Walmart builds a strong presence and fosters positive relationships with local customers.
Learn more about Walmart's marketing strategy, by listening to Justin Breton, Director of Brand Experiences & Strategic Partnerships at Walmart, on the UNAIDED Podcast. 
Opendoor
Opendoor is reimagining the way people sell their homes. Opendoor partnered with TeamSnap for Brands to run targeted youth sports sponsorships across the Dallas, Austin, and Houston area. Through branded jerseys, game signage, and warm-up shirts, Opendoor was able to integrate their brand into the community — directly through sports sponsorships.
Learn more about how Opendoor was able to reach over 7,500 households.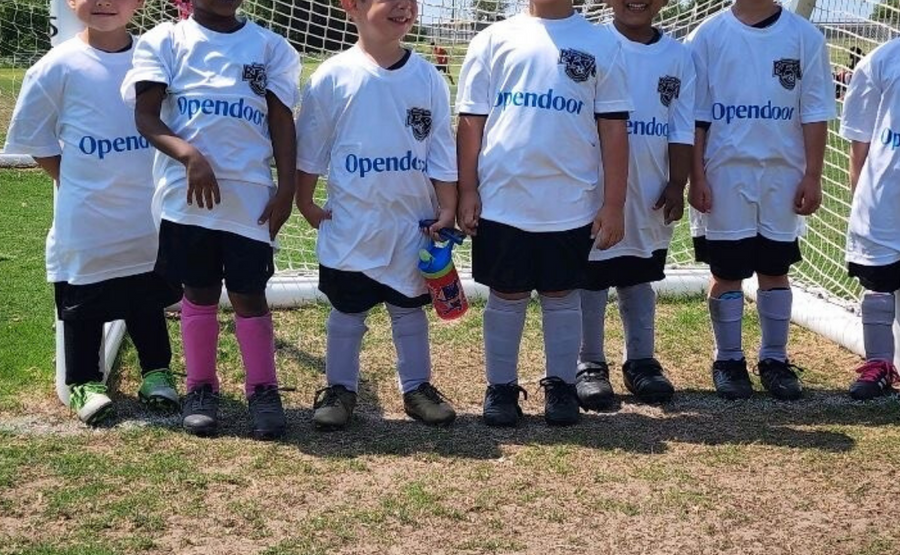 National brands recognize the significance of localized marketing strategies to establish meaningful connections with local customers. Through hyper-localized social media campaigns, location-specific promotions, influencer collaborations, geographically targeted online advertising, community involvement, and localized content marketing, national brands can successfully engage with local audiences, boost brand loyalty, and drive sales.