The spring season is winding down and youth sports organizers are rolling into a busy summer season full of different activities. Summer is a great time for organizations to switch up their programming and offer unique events like camps, clinics, and sports tournaments.
Organizing tournaments is a big task. Picture jamming an entire season's worth of events into one weekend or one day. That includes registration, scheduling, rostering, communication methods, and everything in between. 
How exactly can youth sports administrators stay organized when planning a tournament? TeamSnap for Clubs & Leagues is here to help with five expert tips to seamlessly organize your summer sports tournament. 
Best Ways to Organize a Sports Tournament Schedule 
#1 Get Organized Early and Assemble Your Staff
This may seem like an easy place to start, but it's worth mentioning! Just like most complicated projects in life, the earlier you get started, the earlier you get organized, and the earlier you identify all of the members on your team… the better!
Get out in front of this process and save headaches down the line. There are a couple of key things you'll want to cross off your checklist right away. Some of these examples include, but are definitely not limited to, picking and securing location details (fields, waivers, etc.), locking in specific dates for the event, and assembling a staff of employees or volunteers. 
Don't forget about finalizing details with the officials, keeping every coach in the loop and aware of event details, and your staff has a strong idea of what supplies will be need in preparation of the big day/weekend.  
One of the most important aspects in organizing your event early is building a registration process that's easy for every participant to use. You'll want easy-to-use forms, shareable links, and registration software that handles payments with ease.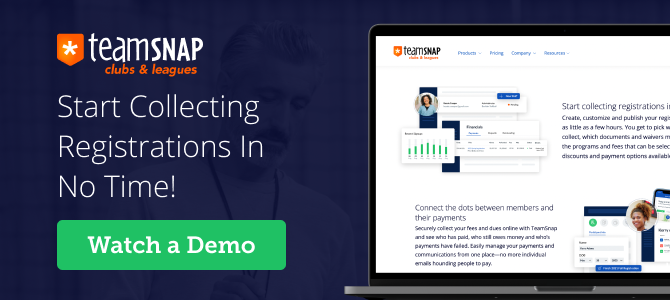 #2 Pick a Format.. And Stick With It
This next step may largely depend on the sport that you manage, but you want to finalize a format for your tournament and make sure you stick with it! 
Are you in charge of a team sport (like basketball, baseball/softball, soccer, lacrosse, etc.) or an individual event like tennis? There are a few formats to consider for both of these options. 
For the team sports, is this a single or double-elimination format? Will there be a winner's side of the bracket and a separate side for any teams that lose? How many teams will be needed to fill out the full bracket? Does this tournament span just one lengthy day, or a full weekend?
There are a lot of questions to consider, but that's why we're starting early! Lay out the full plan for your tournament, get it written down, and let the rest of your planning process take care of the rest! The same applies for individual sports like tennis. Is this a single or doubles tournament? How long will each match be? Single or double-elimination? 
#3 Communicate Effectively, Communicate Efficiently … Use a Website!
For all of the youth sports organizers reading these tips…we know how important communication is! Every parent wants the best for their child and sometimes, that means asking a lot of questions. 
That's why communication is so important for your event, and realistically comes in a handful of phases. One of the best ways to start is building a website for your event. Building a website sounds like a daunting task, but with a tool like TeamSnap's Website Builder, you can upload your relevant data and information with our pre-built templates and easy drag-and-drop editor. 
Remember, the more information on your website… the less questions your participants will have.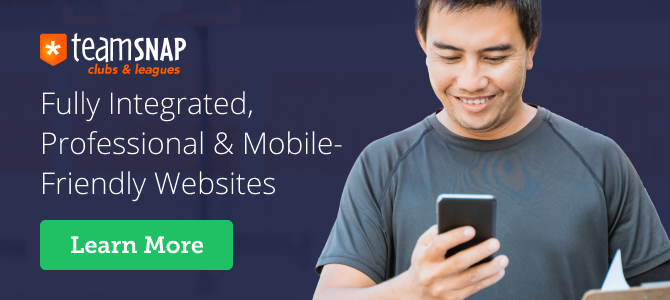 But, it's still important to be able to communicate with every coach, parent, and athlete involved. The TeamSnap Tournament tool is an excellent way to send push notifications, in-app messages, and emails to keep everyone in the loop.
#4 Nail Your Schedule
So you've built your team, finalized the details of your event, created a website, and registered teams and athletes. What's next? Time to create a perfect schedule for your event. 
The goal for all tournament schedule makers is to prevent conflict on game day. Some of the best ways to prevent conflict include
team or venue conflicts and blackout dates

coaches who coach multiple teams

travel times and distances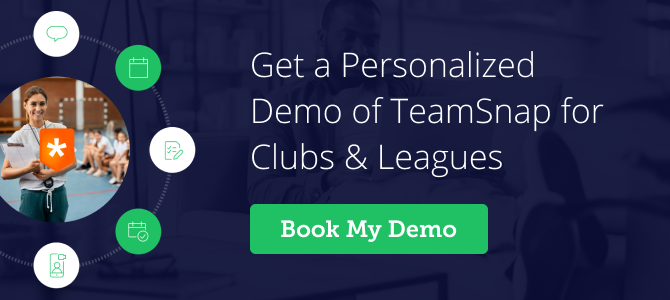 No matter what type of tournament scheduling you need, our tournament software builds it faster than you can say "elimination round." Just input your times, teams, locations and bracket style. Our tournament app does the rest.
#5 Turn Your Tournament Into a Money-Making Event! 
Planning and running a sports tournament is a great way to diversify the programming your club or league has to offer. But, it's also a really great way to raise some funds for your organization moving forward. And one of the best ways to accomplish this is through sponsorships. 
Keep your brand at the forefront while showcasing sponsors and making a profit using the TeamSnap Tournament tool and TeamSnap Sponsorship opportunities. To learn more, please visit this page.
Get Organized With TeamSnap Websites, Sponsorship, and Tournaments
Without the right support and technology, growing your sports organization can be a challenging task. Think about everything that goes into managing multiple programs, raising meaningful funds, and promoting your programs.
Luckily, TeamSnap provides an all-in-one solution to help keep your sports business organized. We'll provide you with the tools to successfully run your programs today, always keeping growth for your youth athletes, parents, and programs top of mind.
We're hosting a live webinar to share 3 Ways to Keep Your Sports Business Organized with TeamSnap Tournaments, Sponsorships, and Websites.
Register now by clicking the link below!